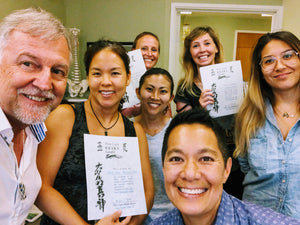 Dr. Chris Lipat
Reiki 2 Class
Sale price Price $350.00 Regular price Unit price / per
White Light Reiki Level 2

By Reiki 2, you are empowered to use the distance symbol, where you can send Reiki to friends, family and even your plants and pets no matter where they are. You can also send Reiki to relationships, job interviews, meetings, or wherever you need to help things to happen for the highest good.
Goals & Outcomes
Affects physical, emotional and mental levels

Expanded intuitive awareness

Learn energy diagnostic techniques

Introduction of sacred symbols

Using a pendulum to assess chakras

Bonus follow up on muscle testing, using a pendulum for asking yes/no questions, and additional emotional healing strategies, including use of Bituin Elixir flower essence blends

Learn Distant Healing

Take home manual

Reiki II Certificate
Taught by Dr. Chris Lipat, DC in Honolulu
Upcoming Schedule
TBD
Saturday, 1:00-6:00pm
Location

5 students max, in-person at Taloʻfoʻfo, Guam
Prerequisite: Any Reiki 1 class. Please bring your certificates and the symbols you have learned.
White Light Reiki has 4 levels. The Expert Level 3 plus the Master/Teaching Level 4. In my line, it is required for you to become a registered Karuna Reiki® Master (4 additional levels) prior to becoming a White Light Reiki Master Teacher. A White Light Reiki Master Teacher in this line will have undergone 8 levels of attunement. Minimum 2 students to schedule a class. Those who would like to continue their training on Oʻahu can reach out to other White Light Reiki masters attuned by Dr. Lipat.

Class Fee: $350
*Very brief contact will be made during the attunement. Students will be practicing distance sessions, so no contact needed. Please bring your own snacks. E-mail Dr. Chris Lipat at reiki@drchrislipat.com or call 671-689-3558 for additional information.