Aloha Kākou!
Because of our unique approach, Dr. Chris Lipat's Mind-Body Energy Medicine practice is a referral-based office focused on your true healing needs. If you've benefited from Dr. Chris' intuitive approach, share this e-newsletter with your friends and family and spread the love!
We are in a time of accelerated expansion, and I now ask "What do my patients need to get to the 'next level,' to the fullest expression of who they are and what they are meant to do in this world?"
The life coaching field is booming because healing is really a byproduct of a person coming to clarity and alignment with their life purpose, with increasing moments of inner peace, self-acceptance/love, wholeness and joy that comes out of that alignment. Chronic dis-ease, discomfort, and pain are really synchronistic opportunities to feel into the places where we experience constriction, tension, fear. As you look deeply into these places during inner work or with the assistance of a mind-body healer or therapist, and allow more compassion, more love of self and forgiveness for those who had a role in shaping you, you experience an increased connection to nature, awakening of the spirit, further strengthening of your voice and calling, as well as trust in divine timing.
This work is what constitutes transformative healing.
It is in this deepened state of awareness of healing and its importance in our personal and collective evolution that I began working with flower essences and gem elixirs. The etheric imprint of a flower or gem imbued in water imparts a unique sacred geometry which strengthens and expands our own crystalline forms in our physical and subtle energetic bodies. Renowned biofield healer/researcher Elizabeth Patric states that "Various imbalances and toxins in the body are ultimately forced out due to the fact that they are vibrating at lower frequencies and hold no crystalline pattern or sacred geometry. They are eventually discharged because they do not vibrate at the level of health that flower essences propel us towards."
Flower essences and gem elixirs are not about fixing or repairing, but rather they allow for integration to the 'next level.' It is with this realization that I conceived of Bituin Elixirs, a set of 6 synergistic blends of flower, tree and gem essences which carry composite sacred vibrational geometries to support undertaking sophisticated shifts in perspective, so you can hold more complexity with ease. These inspired blends, crafted by Essence Alchemy, are created intentionally to maximize their alchemy as tools to accelerate your evolution. Bituin Elixirs heighten inner awareness to support deep healing resulting in change and growth of consciousness.
Why "Bituin?" Bituin is Tagalog for star, heavenly body. We are all heavenly bodies made of earth and water, and it is time we share our best selves with each other for the healing of our world! Click here for more on Bituin Elixirs or to order your set today!
---
Makapagpapabuti is the expression of the individual giving gratitude to everything in existence...When there is complete understanding and respect of one's relationship with others, nature, and everything in existence, one achieves mastery of mind, emotion and body. – Bibiano Fajardo, Hilot: the science of the ancient Filipino healing arts
---

WHITE LIGHT AND KARUNA REIKI® CLASSES IN HONOLULU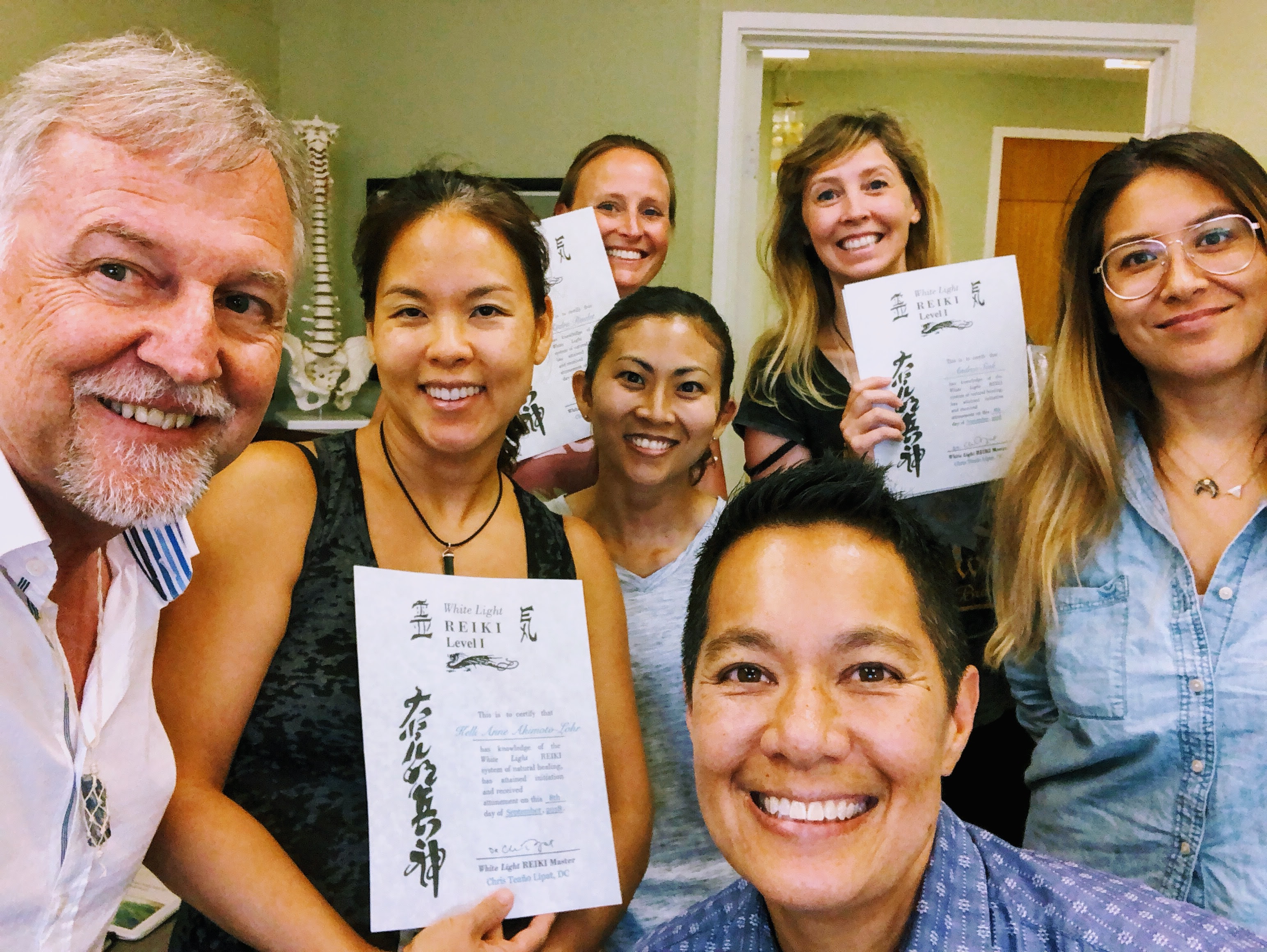 Take healing into your own hands! Reiki is an essential modality and philosophy at Dr. Chris Lipat's Mind-Body Energy Medicine practice!
White Light Reiki Level 1: May 30, 2020
White Light Reiki Level 2: June 6, 2020
White Light Reiki Level 3: April 18, 2020 or December 5, 2020
Karuna Reiki® Practitioner Levels 1 & 2: Nov 14-15, 2020
Karuna Reiki® Master: October 10, 2020 or as requested
White Light Reiki Master: October 11, 2020 or as requested
Follow me on Facebook or check my website regularly for the latest schedule of Reiki classes.
Dr. Chris incorporates muscle testing and other energetic healing concepts to power up your self healing and make her classes special! For more information on Reiki classes with Dr. Chris, click here. Book yourself for a relaxing Reiki session.

---
What's New with Dr. Chris?

A visit to Dr. Chris accelerates your healing to support your evolution. Self-healing approaches that you may have discovered over years of trial and error are recommended for you in the first visit. Follow up visits help you delve deeper, reset your mindset, answer questions and enlighten as you begin to implement changes towards expressing more of your higher, more expansive self.
Whereas I began Niu Health Chiropractic as a chiropractor, functional medicine doctor and reiki master, I have begun a deeper melding of all those disciplines with other energetic and muscle testing practices. I am rebranding to better convey what I offer and am trying on: Dr. Chris Lipat DC's Mind-Body Energy Medicine practice. I'd love to know what you think!
Nowadays, I work to gently align the body on a physical level using tools such as the Activator, Vibracussor deep tissue percussion, Laseronix cold laser low level light therapy, intertwined with higher level Reiki-type energies. I've also incorporated Dr. Gina Kim's comprehensive mind-body-spirit balancing approach called Cellular Regeneration Technique. I use the new, divinely inspired flower essence/gem elixir blends, Bituin Elixirs, to support emotional and spiritual shifts, Healing Sounds' Lemurian Tuning Forks for energetic balancing, and personalized sacred geometry, gems and chakra colors to augment the healing environment. I have an expanded list of affirmations and an exclusive list of lifestyle shifts accumulated over 8 years in practice. I sometimes channel angel number messages and guidance as inspired. Patients get a list of foods to decrease or avoid, but also a list of foods that are healing, and I continue to stock over 100 high quality supplements and homeopathics to detoxify, nourish, energize and strengthen you at each stage of your healing.
I channel a significant amount of energy and I strive for complete presence during each visit, which is why I spend more time with each patient and limit my practice to those select few who are ready for this kind of advanced healing work. I look forward to serving you and your loved ones to the best of my ability! Schedule your next appointment here.
---
Change + enLIGHTenment = Transformation

I am being called at this time to serve 6 patients with a more intensive 6-month program (2 visits per month), Change + enLIGHTenment = Transformation. If you feel that it is time for you to partner with me to power up, go deep, shift and release that which no longer serves, please contact me, Dr. Chris, at enlighten(at)drchrislipat.com or better yet, come in for a System Reset! I'd be happy to talk more with you and your loved ones about next steps!
---
Update your nutrition regimen
Dr. Chris Lipat stocks over 100 different supplements and homeopathics for your unique healing needs! Schedule your in-office or telehealth appointment today to update your nutritional regimen.
Reorder your prescription grade supplements direct from my supplier Natural Partners at Fullscript: https://us.fullscript.com/welcome/drchrislipat.
---
HEALTH NEWS

Dr. Chris posts cutting edge studies on health regularly on
Facebook
along with the latest schedule of Reiki classes. Like our page so you can keep up with the latest in holistic health news!
Article highlights include:
Spiritual Nutrition: how the foods you eat affect your mind, body and spirit
How Does Eating Organically Grown Food Affect the Gut Microbiome?
Inflammation and Mental Health Symptoms
The Effects of Cannabis on Your Hormones
Research Proves EFT is an Effective Technique for Depression
Scientists Show That Water Has Memory
The 8 Other Chakras You Haven't Heard About
Karuna Reiki Symbols
What Are Angel Numbers?
Is your Egg Allergy a Soy Allergy in Disguise?
Bergamot Essential Oil Properties and Uses
As with all health promoting approaches, one size does not fit all. Dr. Chris Lipat provides personalized recommendations that help you rebuild your resilience more effectively and efficiently. Rather than resorting to quick fixes or stimulatory medicines to help you feel better, we set a solid foundation for healing to help you FUNCTION better in the long term.

---
INCREDIBLE holistic tune up and profound insight into our bodies' own ability to heal itself. Putting tools into practice; feels amazing to confront, feel and actively contribute and commit to my own unique path of health, vitality and wellbeing. - Facebook Review
---
Accepting HMSA/Blue Cross PPO & HMAA
Although insurance does not cover a number of the modalities I use during a session (like nutrition, energy work, lifestyle counseling and emotional clearing), some plans will cover the adjustment and a few other components. Check with your carrier to see if they cover chiropractic. Note, I am not in-network with American Specialty Health, EUTF or Quest. I will still be charging an additional co-pay to cover the time and modalities that are not covered by insurance, but at least you can get some reimbursement from your provider. I hope this helps you to get a Deep System Reset more often than you would otherwise!
---
Come check out what's new and experience this unique holistic treatment for yourself. Imagine how a regular regimen could support you in transforming your life for years to come!
E mālama pono!
Dr. Chris Lipat DC
White Light/Karuna Reiki® Master
Certified Cellular Regeneration Technique Practitioner
Certified Functional Medicine Practitioner
Book now
Lasting results. Minimal visits.